Newcastle's Bruno Guimaraes needs to be put in a position to succeed
Newcastle United's midfielder Bruno Guimaraes is a natural-born star, whose impact is known each time he steps foot on the pitch. However, since the start of the new year, it's been noted that his play drastically increases when he plays the correct role, and that stems defensively.
Throughout his time with the Magpies this season, one specific downfall of the team has been a constant offensive rhythm that has rarely been present. Moving forward into the 2023-24 season, one thing that Newcastle has expressed is the possibility of bringing in an attacking midfielder to keep Bruno back to his correct positioning and relieve stress from his role.
At times this season, the entire midfield has lived and died from Guimaraes, putting tremendous responsibility on the young star.
When he's had the opportunity to play alongside Joelinton, he's been able to balance that offensive and defensive presence, but with no real third option in the midfield, it has been a struggle to find consistency.
On the off-chance Guimaraes is unable to play, the team looks like a completely different club. Without him in the Carabao Cup final months ago against Manchester United, the team looked horrific, and when he's been out due to injury, the team looks lost with their leadman absent.
Most recently, he was seen throwing his hands up in frustration even after taking down Southampton in a 3-1 victory.
"[Today was] not my best day at the office today, I know that but it happens sometimes," he posted on Twitter.
Just one game later against Arsenal at home, the stage was set for him to be ready to shine under the bright lights, but when all was said and done he struggled. The Arsenal midfield gave him little to no room to find space and was unable to succeed under pressure.
If Guimaraes has a singular bad game, or somewhat of a rough spell, the team cannot hit rock bottom. Others in the midfield will need to show up to keep the team hole.
When the team lost Jonjo Shelvey abruptly in January, his exit left the club with little in the middle of the field, and this offseason it will need to be a priority to build that backup. With the Saudia Arabian owners voicing the possibility of over £200 million being allowed in transfer fees, the team could be able to make a move for just about anyone.
One player that NewcastleToons has highlighted this season, Sporting Lisbon's Manuel Ugarte, could be that perfect fit for the Magpies to fill that void.
The Uruguayan defensive midfielder has impressed with his performances against some of the higher-end Premier League clubs and he could prove to be a quality acquisition for a team like Newcastle.
On the season he's recorded over 100 tackles, 50 challenges and 50 blocks at just 20 years old, which showcases a bright future.
Other options have been Chelsea's Declan Rice, whos been recently involved in transfer rumors.
No matter who makes their way onto the team this offseason, one thing is for sure, the Magpies are looking to make a legitimate run in the Champions League in the next season.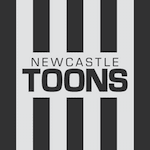 Want your voice heard? Join the Newcastle Toons team!
Write for us!