Can Newcastle United bring in Sporting midfielder, Manuel Ugarte?
As Newcastle United continues to push itself through the ranks of the Premier League table, a Champions League appearance has slowly become a reality.
Although, with continued success comes the need to grow your talent pool.
The team currently has a good enough squad to hold its own within the Premier League and the Carabao Cup. Still, a blast of reality may be released when they step outside into an international tournament like the Champions League.
With the likes of defender Kieran Trippier, attacker Callum Wilson, midfielder Bruno Guimaraes, and goalkeeper Nick Pope being rocks on this team, the opportunity to move pieces and bring in a new star is there.
In recent rumors, Newcastle United was said to be approaching Sporting FC midfielder, Manuel Ugarte.
The 21-year-old has been a star in the midfield while primarily being defensively minded.
Last year, the team took a leap to bring in Guimaraes, who instantly bolstered the midfield core and became one of the top players on the team.
If Newcastle were to take a leap and potentially bring in Ugarte, the acquisition would free up Guimaraes to play more freely forward. Earlier in the season, he came out to the media and said he preferred to play as an attacking midfielder.
With Ugarte potentially joining the team, Guimaraes could play further up in the field while Ugarte would be able to drop back and play as more of a central defensive midfielder.
Well, what would Ugarte's signing look like?
Currently, he is on a £54,000,000 release clause with Sporting FC, with a transfer market value of roughly £20,000,000.
While the price is not terribly high, Sporting is keen on ensuring he stays with the team for an extended period. Recent reports have said that Sporting is negotiating a larger release clause and attempting to lock him down for another four to five seasons.
Newcastle United has been reported as willing to buyout his release clause to bring him in in order to bypass negotiations with Sporting, who are unwilling to part ways with the young prospect.
A buyout of that magnitude would not be terribly detrimental to the team's financial status, and would only prove to be a long-term investment in Ugarte.
If they were to bring him in, the midfield would consist of 28-year-old Miguel Almiron, 25-year-old Sean Longstaff, 25-year-old Guimaraes, 23-year-old Joe Willock, and 21-year-old Ugarte, solidifying a consistent and relatively young core in the midfield.
With reports still coming out about potential Newcastle United signings, the Magpies have plenty of time to work their way to Champions League-level production.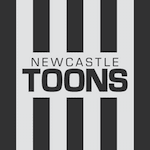 Want your voice heard? Join the Newcastle Toons team!
Write for us!