Newcastle United 2022-2023 Player Grade: Callum Wilson
Callum Wilson made a case for being one of the most consistent strikers in the Premier League after an impressive 2022-23 season alongside the Magpies' successful campaign.
Though he battled injuries and inconsistencies at times throughout the season, he showed up when he was called upon, even when he was moved to the bench for Alexander Isak at times. Heading into the 2023 season highlighted by the Champions League, his on-the-field play may be a catalyst for Newcastle.
In the realm of Premier League football, individual brilliance often has the power to elevate an entire team. For Newcastle, that brilliance comes at the foot of forward Callum Wilson who has continued to emerge as a shining star.
This past season he displayed remarkable skill and determination throughout the season. With his exceptional performances, Wilson has become the catalyst for the team's aspirations of Champions League success.
Time and time again when called upon, he answered the occasion and was able to smash in goals for the Magpies. He finished the previous campaign with a total of 18 goals and five assists.
Most of his knocks were game-winners, including his stunning finishes against Brighton towards the tail end of the season.
Since joining Newcastle United in 2020, Callum Wilson has consistently demonstrated his ability to find the back of the net.
Wilson's explosive pace, intelligent movement and clinical finishing have tormented opposing defenders, making him a formidable force on the pitch. If he can build on what he has done this past season, the Champions League will have to be ready for anything.
Wilson's goal-scoring exploits have been a major factor in Newcastle United's success this season.
His lethal combination of speed, strength and positioning up top has resulted in a plethora of goals for both himself and his teammates. Whether it be poacher's finishes inside the box or exquisite long-range strikes, Wilson has showcased a wide array of goal-scoring abilities.
The English striker's statistics speak volumes about his impact.
With an impressive goal tally of 38 through the last three seasons, Wilson has finished among some of the Premier League's top scorers. Furthermore, his ability to create chances for his teammates with clever layoffs and incisive passes has added another dimension to his game.
Through the last three seasons, he's also dished off 10 assists, helping contribute in other facets on the field.
Well, with him being so good, what is a fair grade for his play?
NT Grade: A
Callum Wilson's outstanding performances this season have firmly established him as a force to be reckoned with. His exceptional goal-scoring ability, leadership qualities and unwavering work ethic make him an invaluable asset for Newcastle United.
With his influence on the pitch, Wilson can be the catalyst that propels the team to achieve its long-standing dream of Champions League success. Newcastle Toons views Wilson as one of the top players on the team, with his play being a direct result for on-the-field success for the Magpies.
As Newcastle United sets its sights on competing among Europe's elite, the team can rely on Wilson's skills and experience to navigate the challenges that lie ahead.
His explosive impact, combined with his leadership and work ethic, will inspire his teammates to raise their own performances, creating a strong locker room on the continental stage.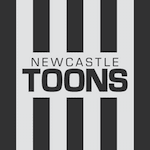 Want your voice heard? Join the Newcastle Toons team!
Write for us!
With Callum Wilson leading the charge, Newcastle United's Champions League aspirations have never been more within reach.