Newcastle United set to lose two players this coming offseason
After Newcastle United was able to find tremendous success in the 2022-23 Premier League season, the team has confirmed that they will be making changes to the successful squad.
Newcastle Manager Eddie Howe has said that role-players Isaac Hayden and Jeff Hendrick will not be returning to the team next season as they look to make a run in the 2023-24 Champions League.
This past season both Hayden and Hendrick spent their respective campaigns on loan at different clubs.
Hayden was a part of the EFL Championship club, Norwich City, where he played in 14 matches recording a grand total of 813 minutes played on the season.
He was unable to find any legitimate time with the team due to a knee injury he suffered halfway through the season.
On the contrary, Hendrick spent his time with Reading, who just like Norwich City are a part of the EFL Championship. However, he played a much more pivotal role on his loan squad as he contributed four goals and an assist in 45 appearances for the club.
After being released by Newcastle United, he could very well make a return to the club he called home for one season.
The news comes just days after the Magpies clinched a Champions League birth next season, showing that the squad needs to have top-of-the-line talent moving forward, and does not have much room to grow prospects.
Last season Howe informed the two that they would have to train away from the squad as they did not fit the needs of the team. Now, just a year later they are parting ways.
In a recent interview, Howe discussed that the team just needed to find the correct pieces to succeed, and they did not fit the club's mold.
"They've done very well and been great servants to the football club and we certainly respect them," he said. "But sometimes you need a clear break and focus on the players who will play a part in the season."
While it is a tough site for some Magpie supporters to see the club move on from players they had watched through the average play of recent years, the club needs to move forward in an upward trajectory.
Another player they are discussing on moving on from is winger Ryan Fraser, who was demoted to the U-21 squad earlier in the season, before ultimately making few appearances for the club at any level.
The club has moved on officially from just two, but a third could be coming after the season comes to a close.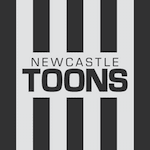 Want your voice heard? Join the Newcastle Toons team!
Write for us!
The Magpies have just one game remaining, coming on Sunday, May 28 at 4:30 p.m. GMT against Chelsea.