Newcastle looks to play spoilers to Leeds United season, facing relegation
With just four games remaining in the season, Newcastle United and Leeds United are set to go up against one another in an important game for both sides.
For Newcastle, they are looking to keep themselves inside the top 5 of the Premier League table, while Leeds has themselves in a position of relegation, sitting in 19th place.
"They know themselves," said Leeds United Manager Sam Allardyce. "Their Premier League status is in jeopardy. The club worked so hard to get here and the first two years are always the hardest."
Leading up to this important game, all eyes have been on Leeds to keep themselves afloat in the top English league, but the reality sits in front of them that the uphill battle is going to be hard to climb.
Going forward, unlike Newcastle, they have just three games left, with two of them coming against top 6 teams in the league.
Throughout their last five games, they've taken on three top-five teams, falling 6-1 to Liverpool, 2-1 to Fulham and 2-1 to Manchester City.
While the contests against City and Fulham were close, the losses still pushed them deeper into the relegation pool as they currently sit at just 30 points on the season.
They are currently two points outside of the bottom three of the league table, with the closest opponent being Everton with 32 points.
A win this weekend, would most certainly help claw them out of relegation, but can it happen?
Well, that is more simply said than done.
Newcastle United has been on a tear this season, and while the team struggled this spring at times, they've truly found their best form in recent weeks.
Since March 12, the club has lost just two contests and won eight.
They've also scored a whopping 26 goals over those 10 games while giving up just 12.
In their most recent game, they fell to Arsenal, 2-0, but took the loss in stride.
"We've analysed the Arsenal game and there was a lot of good. It was very close to being a really good performance I felt," said Newcastle Manager Eddie Howe. "The ability to take our chances really was what was missing on the day, otherwise that could have been a similar performance to Manchester United at home and the other really good games we've had at home in recent weeks."
Even with the team finding success, it has not come without bumps and hiccups in the road.
After the Magpies took down Everton, 4-1, just a few weeks ago, midfielder Sean Longstaff was diagnosed with an injury and his rumored return has been all over the place in recent weeks.
Some sources have reportedly said he's done for the season, while others say its just a small knick and he could be back within a few days. However,  Howe confirmed the worst in his most recent press conference.
"He went to see a specialist," he said. "I think there were a few concerns that there may be some sort of structural damage in his foot."
Fortunately for the Magpies, while they may be without Longstaff, the team will see the continued return of winger Allan Saint-Maximin who has been working back from a hamstring injury. Another player rumored to be injured, Joelinton, confirmed that he will be good to go for their contest against Leeds this weekend.
"We're looking forward to it [the game against Leeds]," Howe said. "We know it's going to be a great occasion and a great atmosphere. We need to be ready for what's going to come.
With both teams fighting for something, this game is certain to be a good one.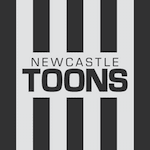 Want your voice heard? Join the Newcastle Toons team!
Write for us!
You can tune into both games this Saturday, May 13, at 12:30 p.m. GMT