Forward duo of Callum Wilson and Alexander Isak continues to shine
Newcastle United seems to have an elite duo that cannot be stopped atop their offense as forwards Alexander Isak and Callum Wilson have been on a tear in recent weeks.
Throughout the 2022-23 season, the duo has a combined total of 22 goals as they continue to showcase consistent form.
In the Magpies most recent contest against the Tottenham Spurs, Wilson and Isak dominated as they provided three of the six total goals scored. Isak scored his two goals in the 19th and 21st minutes, giving back-to-back momentum-growing daggers for the team. Wilson was able to find his goal in the 67th minute off the bench.
For Isak, those two goals marked his 10th and 11th goals on the season and also marks his second two-goal game.
Through the last seven games, he's scored eight goals, directly helping the team win their last six of seven games. He was also named the PFA Fan Player of the Month during the month of March, and most certainly is making a case for that in April.
For Callum Wilson, this season has been full of ups and downs.
After losing his starting job to Isak, he's come off the bench for the last four of five games he's played. Through those five games, he's had four goals and an assist.
On the season he's contributed 11 goals and five assists while taking 60 shots.
Against Manchester United and Tottenham, he scored one in each showcasing that he can rise to the occasion against big opponents. His two-goal performance came against West Ham United, which helped the team pull off a 5-1 win.
In his limited action, he's emerged as a consistent role player that can come off the bench and provide a spark when needed.
These two, when healthy, may pose to be one of the most dangerous duos in the Premier League. With Isak locked down for the next five seasons, and Wilson contracted until June of 2024, the higher-ups for Newcastle United will have to make sure they keep the two together.
The only concern could be whether or not Wilson will be content with coming off the bench for the remainder of his career unless injury hits Isak.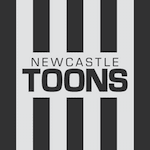 Want your voice heard? Join the Newcastle Toons team!
Write for us!
Now, can they keep this form up to finish the season as the team looks to push towards the Champions League?