Miguel Almiron continues to provide consistent play for Newcastle United
Newcastle United was finally able to find its way back into the winning column on Sunday, March 12, after downing Wolves in the dying minutes of the contest.
With a late batch of substitutions being made, Newcastle was able to reset and regroup offensively, and in the 79th-minute speedy winger Miguel Almiron found the winning goal.
"These are two big games (against Wolves and Nottingham Forest) because of where we are situated," manager Eddie Howe told reporters before the game.
Newcastle has struggled to find a rhythm in league play since 2023 began, but after downing Wolves, they ended a three-game losing streak.
In the team's contest against Wolves, Almiron got the Magpies ahead with 11 minutes remaining when he exchanged passes with Willock, who took his time with possession, before curling a shot across Sa and into the net.
With recent issues plaguing the attacking core for Newcastle, it was a relief to see them find success behind some of the team's depth. Both Alexander Isak, who scored the other goal, and Almiron were able to make multiple chances for Newcastle.
Almiron finished the contest with one goal and two shots. His second shot, from nearly the identical spot from his earlier goal, sailed just high off the crossbar, almost giving his squad a 3-1 lead.
His goal against Wolves marks the 11th of the season, leading Newcastle United in goals. Alongside his 11 goals, he's dished off one assist and taken 50 shots.
Almiron has started 24 of 25 contests this season, providing a consistent playstyle that Howe enjoys. With just 14 games left, Almiron keeping form has been essential to this team.
"We're running out of games. They are going to go so quickly, 14 left," said Howe. "We need points and we are determined to end this run of games we have had in a confident way."
Confidence was most definitely shown against Wolves, as Howe opted to play Almiron and Wilson over Isak and Allan Saint-Maxmin, two players who were thriving all contest long. Being able to trust your bench players to come in and find a goal is important to be a "whole" team.
Fun, not so fun, fact
With Almiron scoring his 11th goal on the season, that brings him within one goal of the total that his counterpart, Saint-Maximin, has scored in his entire career with Newcastle United.
In four seasons with the Magpies, he's scored 12 total goals through 103 games with the club, a drastically low rate to score.
While Almiron has succeeded, Saint-Maximin has struggled, if you have to pick one, who are you picking?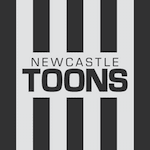 Want your voice heard? Join the Newcastle Toons team!
Write for us!