Player to watch as Newcastle United takes on Wolves
Newcastle United has themselves in a very good spot to regain lost confidence and points in this weekend's contest against Wolves.
In recent weeks, Newcastle has struggled to find any sort of rhythm on the attacking side of things, and defensively they've allowed two goals a game for the past three games. However, with Liverpool falling on Saturday, and Manchester City struggling against Crystal Palace, the Magpies have a prominent opportunity to put an end to their struggles.
Newcastle United has won just one game in the Premier League since the start of 2023, with the team also losing the Carabao Cup Final to Manchester United.
With confidence struggling, and momentum stagnant, they have upcoming matchups that favor them heavily.
On Sunday, March 12, Newcastle will take on Wolves, a team that sits in 13th in the Premier League table with 27 total points. While the Wolves are no pushover squad, they have struggled recently with three losses in their last seven games, they've pieced together two huge wins against top teams.
On Feb. 4, they downed Liverpool 2-0 and in their last game against the Tottenham Spurs, they pulled off a 1-0 win.
Both of those two squads are top 5 currently in the Premier League, showcasing that even tho they sit towards the bottom of the league table they can hang with just about anyone.
On the other side of things, Newcastle United has had recent struggles not winning a league match since January. The team has also not scored a goal since Feb. 11, proving that the offensive consistencies have struggled.
Well, with these struggles, who needs to step up and show out?
Young forward Alexander Isak needs to be the man to step up in the bright lights and emerge as the future leader of this Newcastle United attacking core.
On the season, counterpart forward Callum Wilson has struggled to finish plays and possessions, and most recently in the teams last loss missed a wide-open goal in front of the net.
With so much pressure on the overall attacking group as a whole, Isak needs to come out and help put those claims to bed.
While this season has seen plenty of injuries and unfortunate circumstances plague him, he's still put together some quality performances. Through just eight Premier League contests, he's knocked in three goals.
I would not expect Isak to score, although it would be nice, I would expect him to come out of the gates strong and help lead this team to a win. Whether it's by helping play the ball through the boys up top or dishing off a nice pass for an assist, Isak is due for a quality contest.
The Magpies have a perfect spot now to climb out of sixth place in the league table, and Isak needs to help deliver a win against Wolves.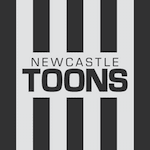 Want your voice heard? Join the Newcastle Toons team!
Write for us!
Newcastle United is set to take on Wolves at 5:30 p.m. GMT on Sunday, March 12.