Newcastle United's starting lineup for the rest of the season
The age-old question that circulates a team is; what should the starting lineup be?
For Newcastle United, the starting 11 has shifted plenty of times this season, but with recent acquisitions, breakouts and breakdowns occurring, who should be in the starting 11 for the black and white?
Newcastle United currently sits at an overall record of 10-11-2 in the Premier League to go alongside an impressive run in the Carabao Cup Final that fell just short of a trophy. The team has had an impressive year that has defied the odds of the media and supporters alike.
However, the starting lineup has fluctuated too many times for my liking. Whether it's due to injuries, suspensions, or cup ties, the team has not been able to flourish due to inconsistent lineups.
The hypothetical lineup for the remainder of the season should be as follows:
On the defensive side of things, Newcastle United should obviously be sending out Kieran Trippier on the right side.
On the left, this gets slightly more difficult because both Dan Burn and Matt Targett have been very inconsistent on the season. However, you have to look at both the offensive and defensive capabilities and Targett takes the edge. While Burn may be a better defender, Targett can defend and help with attacks.
In the middle of the defense, this one is obvious as it will be Fabian Schar and Sven Botman side by side as we've seen all season long.
Having both Burn and Paul Dummett coming off the bench will be nice, as I also hope to see Newcastle utilize Harrison Ashby as the 21-year-old continues to improve.
Now to the midfield. This group of individuals has been the backbone of this squad, with a drastic differential in talent between them. Obviously, the team will have Bruno Guimaraes starting, with Joelinton beside him. Sean Longstaff has been solid but has not been consistent all season. I would much rather see Newcastle utilize Anthony Gordon in the midfield to see how he performs.
Up top, the most likely options would be Alexander Isak as the striker, Allan Saint-Maximin on the left and Miguel Alimron on the right. This would add plenty of versatility up top for the offense to maximize their speed and effectiveness.
With the team struggling in recent contests, losing three straight, Howe must get this lineup set as the season hits its tail end.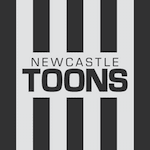 Want your voice heard? Join the Newcastle Toons team!
Write for us!