Dan Burn hinders Newcastle United's offensive attacks
Newcastle United has been faced with an interesting situation once again; their offense has hit a wall in recent games and Dan Burn has restricted the movement on the left.
With the team on the brink of a Champions League appearance, the team needs to address its inconsistencies with its attacking core. At times, we've seen the issues stem from the ball being unable to be set up from the back to the front, i.e. the defense.
In the most recent contest, Newcastle United's left-back Dan Burn struggled to find any offensive rhythm, which resulted in the left side of the field having to be single-handedly carried by Allan Saint-Maximin. Burn is mainly utilized defensively, and does not offer much on the offensive side of things.
Throughout his nine-year career, he has scored 12 goals and added four assists, but with Newcastle, he has been stagnant the past two seasons scoring just one and assisting on one through 45 games.
While he is a defender, and his purpose is to defend, Newcastle currently needs a back who can stretch their respective side and make plays happen.
What's the fix for Newcastle United?
This fix would have to result in the moving of Dan Burn to the bench. Burn cannot currently start over the two center-backs Sven Botman or Fabian Schar, and there is no chance he gets the right side of Kieran Trippier.
The only logical move for Burn would be to the bench, and coming in as a relief defensively.
He holds the offense back, and targeting a solid offensive defender may be what Newcastle United needs as they move forward. He is a phenomenal defender that many fans and supporters love, but this team currently needs a legitimate offense.
Instead of Burn, Newcastle could look to bring in a player like Kieran Tierney this offseason from Arsenal.
Tierney has been an incredible defender, while also being lethal offensively. Like Tripper, Tierney can help set up offensive possessions and create plays to help the attacking group up top.
Tierney is worth just £30,000,000, which makes the acquisition very likely. Due to the managerial group and owners recently reporting that they are willing to shell out massive amounts of money this offseason to bolster the starting 11, this transfer could happen.
Only time will tell what the fix is for the struggling attack for Newcastle United, will they make a move this offseason defensively, or look to singlehandedly bolster the offense with an elite three up top?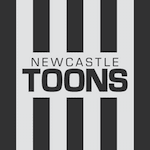 Want your voice heard? Join the Newcastle Toons team!
Write for us!