Weston McKennie would be the perfect fit for Newcastle
Another day, another player for Newcastle United. The team currently sits at the No. 5 spot in the league table, and securing a top-of-the-line player like Weston McKennie in the midfield is something you would not pass up on.
As the season has gone on, a blatant hole has been noticed in the midfield for Newcastle. Whether it's the defensive or offensive production, the play has been inconsistent and lackluster.
Weston McKennie currently is on loan with Leeds United after the team has had its fair share of struggles this season and looks to avoid relegation. Before being loaned out, McKennie played 15 matches in the Series-A league for Juventus and contributed a goal and an assist.
Newcastle United has lacked consistent play in its midfield group this season outside of Bruno Guimaraes and Joelinton at times. With Guimaraes out, the team has not won a game, showcasing just how important the midfield is in setting up the rhythm for manager Eddie Howe's scheme.
McKennie has shown that in each system he is in, he can fit the mold and fit it well.
As Newcastle continues to climb the English Premier League table, he may have the opportunity to appear in the Champions League if he ended up with the team, in which he already has experience playing.
McKennie played in five contests for Juventus during their Champions League run and contributed two goals, proving that on the grandest stages, he can succeed.
This would be an opportunity that I could not see Newcastle United passing on as it fills every void you could have in the midfield: confidence, consistency, and experience in high-pressure contests.
Currently, due to the fact that he is on loan, Newcastle would be unable to take a leap toward him until this coming offseason. Leeds also will have the option to buy the 25-year-old. The deal is reportedly a €33 million buy option clause and add-ons that could make it €36 million.
This range would be perfect for Newcastle United as they would be able to shell out under €50 million in order to bring in a solid midfielder to pair with Guimaraes.
Do you want to see McKennie with Newcastle United?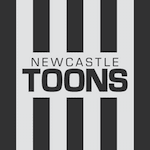 Want your voice heard? Join the Newcastle Toons team!
Write for us!