Newcastle United's disastrous loss against Liverpool
What a disaster.
It was bound to happen that Newcastle United would receive another loss in the Premier League after their last occurred way back in August, but for the loss to come in this fashion, it stings just a bit more.
Newcastle United took on Liverpool back on Aug. 31, 2022, and fell 2-1. In that contest, the Magpies held their own up until the added time when Fabio Carvalho secured the go-ahead goal.
Fast forward six months, Newcastle had found themselves in a consistent rhythm where they were securing points in each contest, whether it was one or three.
The struggles however began on Jan. 31, when midfielder Bruno Guimaraes received a red card in the late stages of a 2-1 win over Southampton in the EFL Cup Semi-Final. That red card would knock him out three games, and over the course of those three games, the midfield looked rocky.
A tie against West Ham and a tie against Bournemouth would showcase that the attacking for Newcastle was hitting a wall, with little production without consistent midfield play.
Against Liverpool in their rematch yesterday, Feb. 18, Newcastle United was in a rough spot due to injuries. Joe Willock went down against Bournemouth, and in turn, Elliot Anderson got the start in the midfield. Alongside Anderson, it was Sean Longstaff and Joelinton, once again Eddie Howe decided to not give Anthony Gordon the start.
The midfield showed an extreme lack of poise and was constantly out of position.
In the 10th minute, forward Darwin Nunez knocked one past the left side of goalkeeper Nick Pope to put Liverpool up early. While Liverpool established some quick momentum, the goal came easily and adjustments could be made.
Unfortunately for Newcastle, those adjustments did not come fast enough and in the 17th minute the defense was out of position, and forward Cody Gakpo slotted one past Pope.
The quick 2-0 lead rattled the Magpies and it showed as just five minutes later, the contest's fate would be sealed.
After a free kick was taken on Liverpool's side of the field, Newcastle was caught off-guard and Pope was in an odd position well outside of his box. With little time to think, he decided to dive toward the ball to head it away and instead of his head hitting the ball, his hands did.
Due to the fact, he was so far outside of his box, and it was an empty net behind him, he was instantly awarded a red card.
Now with Newcastle playing down a player, they sat back and tried to find bits and pieces of momentum but were unable to find any goals.
They would end up losing 2-0, but the real loss comes with Pope's suspension for this coming Sunday's Carabao Cup Final.
Newcastle will look to take on Manchester United without Pope, potentially Willock and a number of to-be-determined players who are dealing with injuries.
With the loss, Newcastle has fallen down to the No. 5 spot in the league table, as Tottenham downed West Ham United on Sunday morning. They currently sit behind the Spurs by one point.
This contest against Man United will be a true testament to what magic manager Eddie Howe can pull off.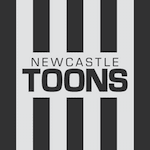 Want your voice heard? Join the Newcastle Toons team!
Write for us!