Newcastle United: Offside call should not be an excuse
A key moment could have been different, but focus and execution suffered.
Newcastle United and manager Rafa Benitez enter the international break on a sour note, coming off a 1-0 home loss to AFC Bournemouth on Saturday. A defeat always brings about questions in how to improve, but making excuses is never a proactive approach.
It can certainly be easy to point at a first-half call from the officials that did not go the Magpies' way, as Dwight Gayle's goal was ruled offside. The striker was able to get on the end of a rebound following Matt Ritchie's effort, but the apparent opener was not allowed.
Saturday's fixture featured little attacking creativity from both sides, and overall it was not the most entertaining of encounters. Newcastle were only able to get four shots on target throughout the 90 minutes.
The Cherries eventually found a stoppage-time winner, making the call against Gayle even more frustrating for fans. It was close, and Simon Francis' arm seemed to keep the English forward's run onside.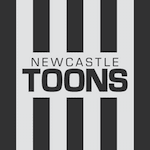 Want your voice heard? Join the Newcastle Toons team!
Write for us!
A positive outlook and perspective
While there will be disappointment in the result, moments like these cannot work against a team.
It was the type of call that could truly go in either direction, and on another day perhaps Gayle is credited for the goal.
But the sequence was early, and it should not be an excuse for the remaining minutes of the match.
Poor execution led to more missed opportunities later in the game, as the Magpies offered few promising moments in the final third.
What will be important will be preparing for the immediate future, and using the international break as a chance to work out their difficulties (plus a visit to Old Trafford is on the horizon).
Newcastle United will want to improve their form when Premier League play returns. In order to do so, they can't make excuses for their failures.